In today's digital age, there are countless online platforms for buying and selling items. One such platform that has gained popularity in recent years is OfferUp. Modeled after Craigslist, OfferUp is a peer-to-peer sales site that allows individuals to list and sell items for free. But is OfferUp a legitimate and effective platform for buying and selling? In this OfferUp review, we'll explore the ins and outs of OfferUp, its features, and whether it's a trustworthy option for your online transactions.
Getting Started with OfferUp
1- Creating Listings
One of the key features of OfferUp is its user-friendly interface for creating listings. To list items for sale, you'll need to provide clear photos of the item, along with a title, description, price, and location. The process is straightforward, and OfferUp makes it easy to upload images directly from your device.
1- Local Sales
OfferUp is particularly well-suited for local sales. If you prefer to sell your items in person, you can do so without incurring any fees. Buyers typically pay in cash, and transactions often involve a convenient doorstep pickup or meeting at a safe and well-lit location of the seller's choosing.
2- Shipping Option
For those who want to reach a broader audience beyond their local area, OfferUp offers a shipping option. However, it's important to note that when you choose this method, you'll be subject to a site commission of 12.9% of the sales price or a minimum fee of $1.99, whichever is more. While this fee may seem reasonable compared to some other online marketplaces, it's essential to factor it into your pricing strategy when selling items through shipping.
OfferUp Review From A Buyer's POV
When it comes to buying on OfferUp, the experience is generally positive. Buyers have the option to browse a wide range of listings, filtering by location, price, and category to find the items they're interested in. Communication with sellers is easy through the platform's messaging system, allowing buyers to ask questions and negotiate prices before committing to a purchase.
– Local Pickup
For local buyers, OfferUp offers the convenience of local pickup. This means they can purchase items and arrange to meet the seller in person to complete the transaction. The local pickup process is typically smooth, and buyers can inspect the item before making a final decision.
– Shipping
For buyers who choose the shipping option, the experience can vary. While many sellers are reliable and ship items promptly, some reviews indicate that there can be issues with shipping, such as delays or items not matching their descriptions. It's advisable for buyers to communicate clearly with sellers regarding shipping expectations and to check the seller's reviews and ratings before making a purchase.
OfferUp Review From A Seller's POV
– Promoting Your Listings
If you want to increase the visibility of your listings and attract more potential buyers, OfferUp offers a feature called "bumping" or "promoting." By paying a small fee, which can range from $2 to $8, you can boost your advertisement's visibility for a specified duration. This can be a valuable tool for sellers looking to stand out in a competitive marketplace.
– Ratings and Reviews
One of the strengths of OfferUp is its rating and review system. Both buyers and sellers can leave feedback after a transaction is completed. This system helps establish trust within the community by allowing users to see the reputation of other members. Before making a purchase, it's a good practice for buyers to check a seller's ratings and reviews to ensure a positive buying experience.
OfferUp Ratings on Online Review Platforms
On Site Jabber, OfferUp has an average rating of 1.22 stars, based on 838 reviews. It's important to note that out of 838 ratings given by users, 748 ratings are 1 star which shows users are not really satisfied with it.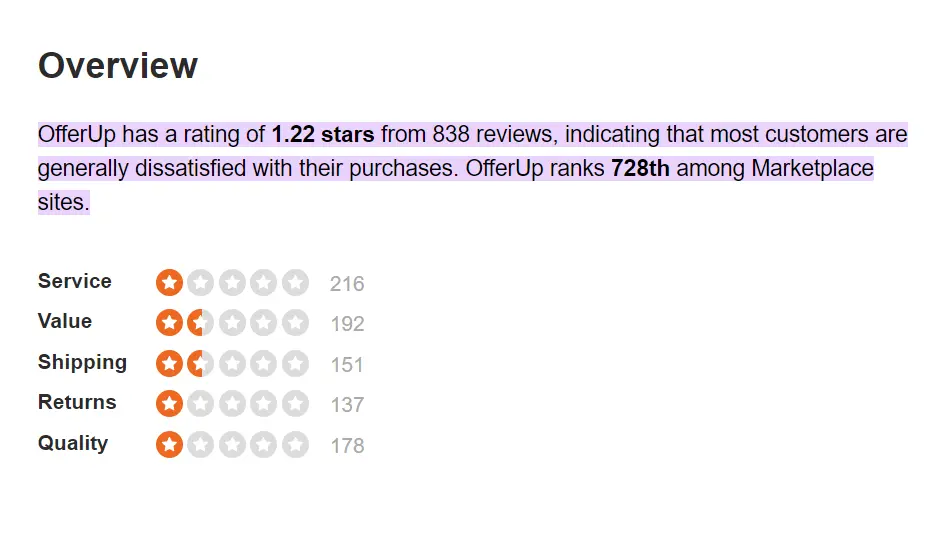 The user ratings on Trust Pilot is not very different from Site Jabber. Out of 1381 reviews, 92% of the reviewers rated OfferUp 1-star. Meanwhile, the overall rating is 1.1.

Is OfferUp Legit and Safe?
The question of whether OfferUp is a legitimate and safe platform is a crucial consideration for users. OfferUp has taken steps to enhance safety on its platform by implementing features such as ratings, reviews, and in-app messaging. Additionally, the option for in-person transactions provides an extra layer of security for both buyers and sellers.
However, as with any online marketplace, there is some risk involved. Users should exercise caution, especially when dealing with high-value items or arranging to meet strangers in person. It's essential to follow best practices for online safety, such as meeting in public places and trusting your instincts.
Pros and Cons of OfferUp
– Pros:
Free Local Listings: OfferUp allows users to list items for sale locally without incurring any fees.
User-Friendly Interface: Creating listings and communicating with buyers/sellers is easy and straightforward.
Local Pickup Option: Local buyers can enjoy the convenience of in-person transactions.
Rating and Review System: The platform's feedback system helps establish trust and transparency.
– Cons:
Shipping Fees: If you choose to use the shipping option, you'll be subject to a commission fee.
Varied Shipping Experience: Some users have reported issues with shipping, including delays and item discrepancies.
Safety Concerns: While safety measures are in place, users should still exercise caution when meeting strangers for transactions.
Final Verdict: Is OfferUp Worth It?
OfferUp is a legitimate and effective platform for buying and selling items, especially for local transactions. Its user-friendly interface, local pickup option, and rating system make it a convenient choice for those looking to declutter their homes or find unique items in their local area. However, users should be aware of the fees associated with shipping and exercise caution to ensure a safe and successful experience.
In the end, whether OfferUp is worth it depends on your specific needs and preferences. If you're comfortable with local sales and appreciate the opportunity to inspect items in person, OfferUp can be an excellent choice. Just be sure to use the platform wisely, follow safety guidelines, and read reviews to make informed decisions. With the right approach, OfferUp can be a valuable addition to your online buying and selling toolbox.